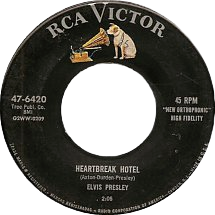 • Heartbreak Hotel •
Sun Studios did not have a chamber. Thus, Elvis' early music on Sun Records has no chamber reverb. But they did create a distinctive 120ms-140ms tape slap echo at Sun. When Elvis moved to RCA Records, they could only guess how the effect was created, approximating the sound by placing a loudspeaker and microphone in a nearby bathroom hallway. Propagation time from speaker to microphone gave an echo, though much shorter — closer to 80ms. The hallway also added some resonance, which was not in the Sun tape-based slap echo sound. In search of echo, they added a small chamber.
Artist: Elvis Presley
B-Side: I Was The One
Album: Heartbreak Hotel
Label: RCA Victor
Year: 1956
Producer: Steve Sholes
Engineer: Bob Farris
Studio: RCA Victor rented a studio from the Methodist TV, Radio and Film Commission, 1525 McGavock St., Nashville, TN (pre-dates RCA B).
---